The Washington Wizards home page
Starters
1- C. Billups
2- L. Barbosa
3- K. Durant
4- L. Odom
5- J. O'Neal
Bench
T. Young
A. Randolph
R. Mason
R. Turiaf
W. Green
A. Bradley
L. Amundson
Kevin Durant pictured above is the heart and soul of this Washington franchise
Last edited by W00kle on Sat Dec 11, 2010 2:06 am; edited 2 times in total (Reason for editing : Draft Complete!)

W00kle




Join date

: 2010-11-21


Location

: Australia


Posts

: 142



Any feedback guys??

Ended up with 5th pick of the draft so very happy with how my team ended up, few picks I was hoping i'd get that i missed out.

Delighted I got Randolph - he's been a beast for me in my Knicks Association!

W00kle




Join date

: 2010-11-21


Location

: Australia


Posts

: 142



The team is looking very solid. Plus you have my favorite player Kevin Durant. Good luck on the season.

-Still
10 Game Recap:
After 10 Games the Wizards are sitting bottom of the division with a record of 3-7
Highlights of the first 10 games include;
A home and away win over New York: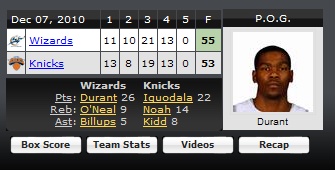 OT nailbitting victory over the 76ers 75-71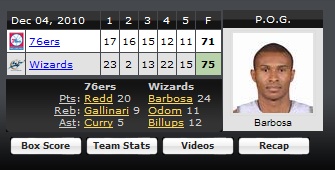 Kevin Durant slams one home in a tough loss against Portland

W00kle




Join date

: 2010-11-21


Location

: Australia


Posts

: 142



Washington suffers two humiliating back to back losses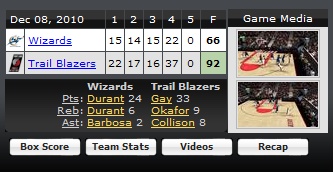 The Wizards simply were no match for a Portland team led by Rudy Gay who led the game for scoring with 33 points. Durant put up a fight as usual with 24 points and 6 rebounds but the hot and cold Wizards simply leaked too many points
After that humilitating loss the Wizards arrived at Golden State hoping to turn their fortunes around. At half time the fans would of been excited about a chance of a rare away victory, their team was trailing by 6 points and were looking likely to cause an upset. A poor 3rd quarter defensively (as usual) saw the lead blow out to over 20 and the Wizards never looked like a cohesive unit again.
What the GM had to say:
W00kle
" The big boys inside are simply not getting it done on the defensive end. We are leaking points left right and centre. I am hot happy!! I can say right now there will be changes taking place within the next 5 games. Nobodys place in team is guaranteed. I take that back - Durant will not be traded Anybody else is open for talks. Jermaine O'neal simply can not handle the bigger men inside. I need to strengthin this team if we are to make the playoffs."
The one highlight for the Wizards in the first 12 games is definately
Kevin Durant
. Kevin Durant is leading the team in PPG; RPG and FT%. Durant is also leading the League in Free Throw % @ 100% with 36 from 36.
Kevin Durant about to make yet another Free Throw in the loss against the Warriors. When will he miss?
Lets hope Washington can turn their fortunes around and make a decent run at the playoffs.
more to follow as more results are avail....

W00kle




Join date

: 2010-11-21


Location

: Australia


Posts

: 142



Wizards grab crucial Conference win on Road!
The Washington Wizards produced an outstanding reversal of form with a tight victory on the road against the Atlanta Hawks.
After leading for most of the game the Wizards almost threw the game away when Mo Williams had a chance for a 3 on the buzzer for an unlikely victory. Again Durant led the way for the Wizards with 32 Points. However, it was the first time this season the whole team put their hand up with contributions. O'Neal was fantastic on the glass with 12 rebounds, Barbosa and Billups both scored 14 points, Billups set up 8 assists and Barbosa grabbed 7 boards.
The win wasn't the only upset of the game, Durant missed his first Free Throw of the season he now has a record of 39 from 40 @ 97.50%.
Kevin Durant's eventual game winner with 22 seconds left in the game
W00kle's words
It would appear my spray has had an affect on team. I'm glad the pieces of the puzzle are coming together. Jermaine may of saved his ass with that dominant display leading the game in rebounds. Odom, however, isn't performing and I've heard L.A could be interested in him. Hopefully the two teams can come to arrangement that will help our overal chances for the playoffs.
......................................................................................
Well thats the wrap from a great win by the Wizards.. A few more Ws like that and the'll be make in contention for the post season................

W00kle




Join date

: 2010-11-21


Location

: Australia


Posts

: 142



Wizards Suffer Back to Back loses vs Pacers

The Wizards went into half time holding a one point advantage but managed to lose another tight game. This is becoming a regular occurance this season. Durant did his best to win the game for his home fans - top scoring with 45 points - but again Durant didn't get much support, especially in the 4th quarter
Kevin slams one home infront of his home crowd
Well the Wizards went to Indiana knowing if they played like they did in the previous meeting they would be in with a great chance of a Victory. The only problem is, they played like muppets out there. Durant had a game high of 24 points only problem is, when Durant was resting the Wizards couldn't score. The bench managed a total of 2 points!
What W00kle had to say about the two loses:
I've said it before and I'll say it again. I am making changes. We will have a different starting lineup before the next game. I am looking at improving the starting lineup and benching a few players to ensure we can score all game long... The one thing I do want to point out is that Kevin Durant is the face of this franchise and we will do everything we can to strengthen this team to give him a ring. He definately deserves it after putting up with performances like this and never complaining
.......................................
Well there you have it folks.. There will be changes in the nation's capital. Rumour has it that a player with a somewhat chequered past could be doning the Wizards jersery next game

W00kle




Join date

: 2010-11-21


Location

: Australia


Posts

: 142



Washington announce blockbuster Trade!
Bad boy Gilbert Arenas returns to Washington in a trade that sees Lamar Odom and Jermaine O'Neal shipped over the San Antonio in exchange for Arenas and Mickael Pietrus.
Both O"Neal and Odom would of known their day is coming. GM W00kle has repeatedly stated he was unhappy with their contributions and it seems Jermaine's one standout game with 12 rebounds was not enought to save his spot it the side.
It is not yet known how the starting lineup will look once Arenas and Pietrus appear in the Wizards jersey, however, we can be sure to say the Wizards have definately improved their scoring chacnes. Now we hope their big men can step up in the paint.
Time will tell.........................

W00kle




Join date

: 2010-11-21


Location

: Australia


Posts

: 142



Well seven games have passed since the blockbuster trade hit Washington lets review how the team has performed:
The Wizards started slow scoring only 10 points in the first quarter and never really recovered. Playing his first game for the team Arenas could not find his rythm and hit only 6 from 19 shots upon scoring his 12 points. Durant chipped in with 24 points but the Washington were never going to win this encounter.

Again Washington had a poor first quarter, this time limited to only 7 points but they made ammends for it outscoring the Celtics by 13 points in the next quarter of play. The held a vital lead at half time and were ran out comfortable winners. The team started to gel together as Kevin Durant top scored with 23 followed by Billups with 17 and Arena with 13. The bench contributed with 16 vital points. W00kle " I think this difference in this game was that we were not a one man show. Kevin struggled with his shooting tonight (hitting less than 50%) but the rest of the team came together to secure the W.
Following that Win the Wizards went on a 3 game losing streak. Losing to the Bucks, Heat and Hawks all in succession.

Morale within the team was at an almighty low following the 3 losses but Billups helped ensure there would not be a fourth successive loss. Billups had a game high 27 points, while Durant assisted with 24 points and 8 rebounds in the 3 point victory. Again Arenas struggled with only 8 points and missing on 4 free throw attempts.

Chancey Billups top scored for the third game in a row with 31 points in the 11 point victory over fellow easterns the Chicago Bulls. Both team went into half time locked up but Washington managed to come out victories after a superb 4th quarter where they limited the Bulls to 14 points.
If Durant and Billups can continue this run of form the Wizards may slip into 8th spot in the East after the next 5 games.
Fingers crossed for all Washington fans out there.

W00kle




Join date

: 2010-11-21


Location

: Australia


Posts

: 142




---
Permissions in this forum:
You
cannot
reply to topics in this forum